Prerequisites for studying
To enrol in a university in Rhineland-Palatinate, you must fulfil certain requirements:
Higher education entrance examination
Have you acquired your higher education entrance qualification in your home country and would like to study in Rhineland-Palatinate? Then your higher education entrance qualification must be also valid in Germany. This means: It will be checked whether your higher education entrance qualification is comparable to its German equivalent. If you would like to know whether your qualifications make you eligible to study in Germany DAAD database on admission requirements. There you will also find information on whether you need to take additional exams in order to receive an admission.
We also recommend you to take the test "Check: university admission" on the Uni-assist website. There you can check whether you meet the necessary requirements and what to do if you do not.
Preparatory course
Is your school leaving degree not comparable to the German equivalent? No worries, you can still study in Rhineland-Palatinate through earning the qualification to enter university in a so called preparatory course. Such a course takes one or two semesters. Find more information on the websites of the preparatory colleges in Mainz and Kaiserslautern.
Recognition of previous studies
You have already obtained a university diploma in your country of origin and want to continue studying in Rhineland-Palatinate, e.g. to complete a master's degree? Then you should have your degree recognized before you enter Germany. The Anabin database of the Standing Conference of the Ministers of Education and Cultural Affairs will inform you about the recognition of your university diploma. You can also contact the academic international office or the international office of your desired university. Find their contact information on the website of Higher Education Compass or on the DAAD website.
Video: Meet the requirements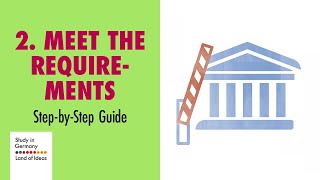 German language skills
If you choose to enrol in a course of study in German, you must prove that you have sufficient knowledge of the German language (at least level B2 according to the Common European Framework of Reference). As these prerequisites may vary, it is advisable to inform yourself directly at your university of choice about the language skills required and certificates accepted. It is recommended to have taken a German test in your home country before entering Germany. For example, you can acquire language skills in of the 157 Goethe-Institutes worldwide. You can find the institute closest to you on the interactive world map of "Make it in Germany".
The standard certificates for this purpose are the "Deutsche Sprachprüfung für den Hochschulzugang ausländischer Studienbewerber" (DSH) and the "Test für Deutsch als Fremdsprache" (TestDaf). Both are recognized equally. If you have attended a German school abroad or a preparatory college, you do not have to take this test.
Find further information on language certificates and examinations at the portal of Study in Germany.
Visa and Entry procedure
Citizens of the European Union, Iceland, Liechtenstein, Norway and Switzerland do not require an entry visa to live and study in Germany. All other students must apply for a visa for the purpose of studying. Detailed information on visas for study purposes is provided by the German Academic Exchange Service (DAAD).
Video: Enter and stay in Germany