Looking for a job
Whether you are still in your home country or already here in Germany, the best place to start looking for a new job is on the Internet. Or would you like to have personal assistance? There are many paths leading to your new job – we present various possibilities here.
"Make it in Germany" job listings
Jobs matching your qualifications can be found at the job listings of "Make it in Germany". The official portal of the Federal Government supports skilled workers from abroad in looking for a job. The offers come directly from the Federal Employment Agency (BA). All employers listed are happy to welcome skilled foreign workers from abroad.
Offers via the German Federal Employment Agency (BA)
The German Federal Employment Agency (BA) is the German administration supporting residents and foreign nationals in finding a job in Germany. It is your first contact for all questions about working and applying for work in Germany. The BA operates the most important official job board of the country. You can search for job vacancies with specific characteristics here. Although most job offers are only available in German, the navigation is multilingual.
If you are already in Germany, you can also get personal career consultation from the BA. The job information centers (BIZ) within the employment agencies have information on various careers in Germany. Staff at the employment agency responsible for your place of residence will help you find the right job or trainee position.
Customer Center of the German Federal Employment Agency (BA)
The Customer Center (CC) is responsible for the worldwide search for special experts for Germany. Foreign employees or trainees looking for employment in Germany can contact the CC. You can contact the CC via hotline or chat. More information can be found on the website Make it in Germany.
Online job boards and company websites
When German companies post job ads, they usually do not only use official job portals. They also use commercially operated online job boards. You can generally create search filters to look very specifically for your new job at the location desired. There are job portals with offers from across Germany, as well as regional job portals that are focusing on a specific region or federal state such as Rhineland-Palatinate. The best thing to do is to simply try both.
We are unfortunately not able to name specific providers here for legal/competitive reasons.
You have already found a few companies you are considering? In that case, you should absolutely explore these firms' websites. More and more companies are including current job vacancies on their own websites. You generally find these offers in the "Job openings", "Current issues/News" or "Career" sections. You can also find interesting offers on social media.
Video: Job hunting in Germany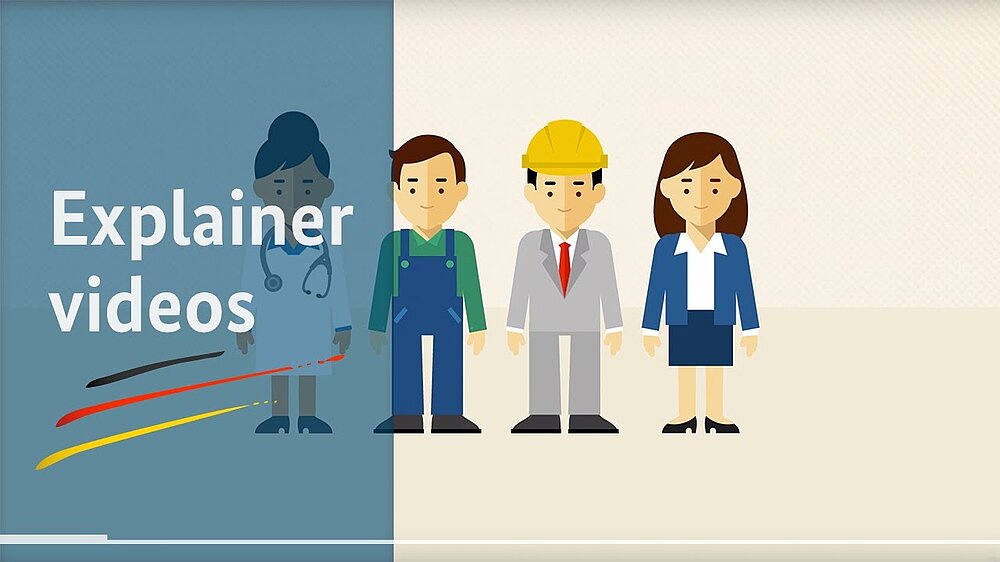 Newspapers
Many newspapers publish job offers regularly. Take a look at local and regional or national newspapers such as the "Rhein-Zeitung", "Trierischer Volksfreund", "Allgemeine Zeitung" and "Rheinpfalz". Job offers are mostly published in the weekend or Saturday issues of the papers; some also publish offers on Wednesdays.
The regional and national newspapers mainly include offers at a higher career level (e.g. CEO, team leader or professor) or from well-known institutions, while local papers publish openings for all kinds of jobs. You can often also find job offers online at the newspaper's websites.
HR advisers
When looking for a new job, you can also use private recruiting agencies and HR advisers. They will look for a suitable position for you. Find out in advance whether the services of the HR adviser or recruiting agency will charge a fee. HR advisers are often also looking for new employees on the career pages on behalf of a company. You must then apply to the HR adviser, who performs a preselection of applicants for the contracting company.

We are unfortunately not able to name specific providers here for legal/competitive reasons.
Job fairs
A job fair gives you the opportunity to establish personal contacts with companies and future co-workers. You can usually find out in advance which companies are taking part in the fair. This way, you can prepare your application materials specifically for companies you are interested in. You should always have a resume containing the most important information about your job experience with you. After discussions, it is best to ask for a business card with the name of your contact. You can then refer to your initial meeting in subsequent communication.
Video: The Skilled Immigration Act in Germany